The Day the Virgin Mary Got into Politics
By

Date

November 14, 2018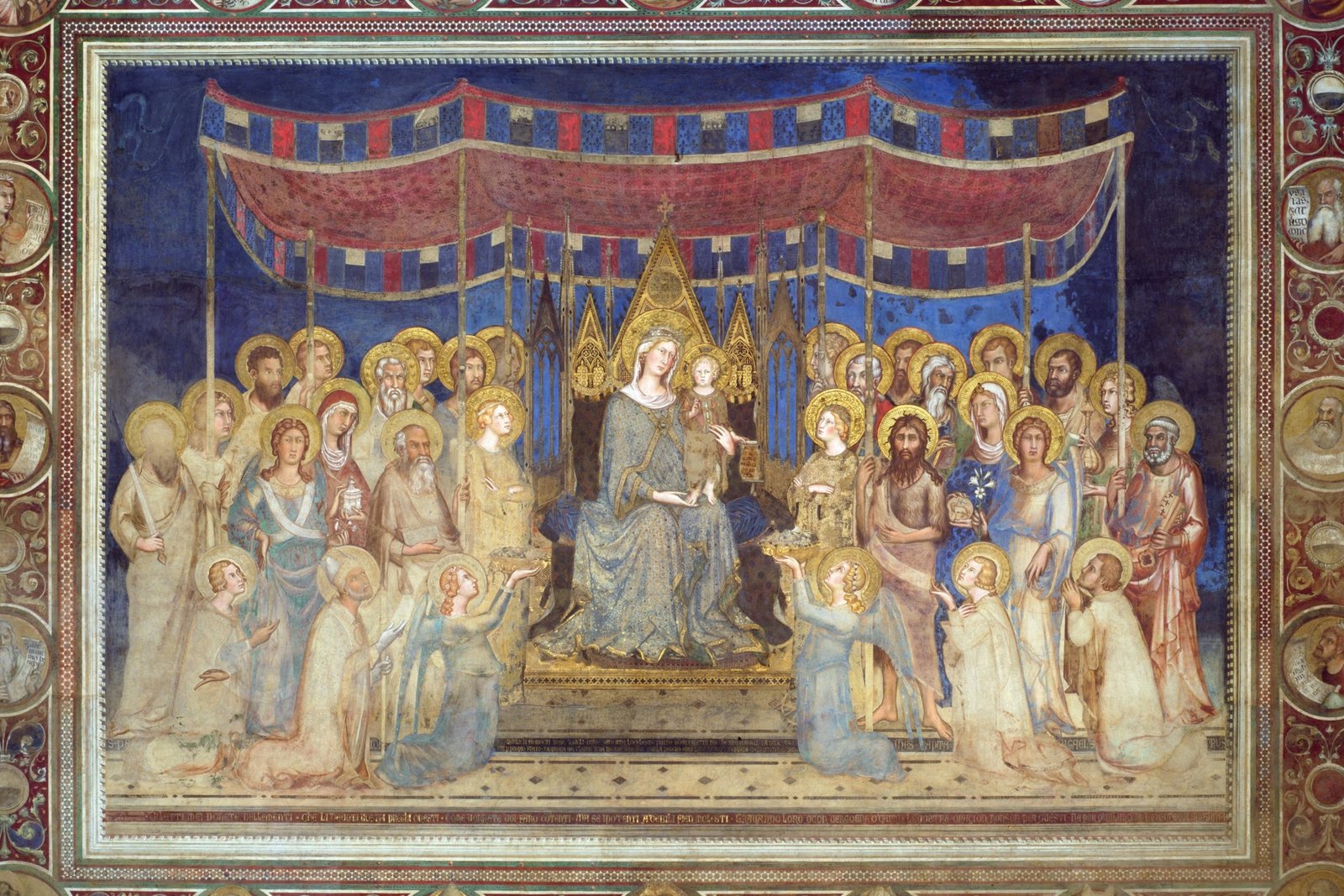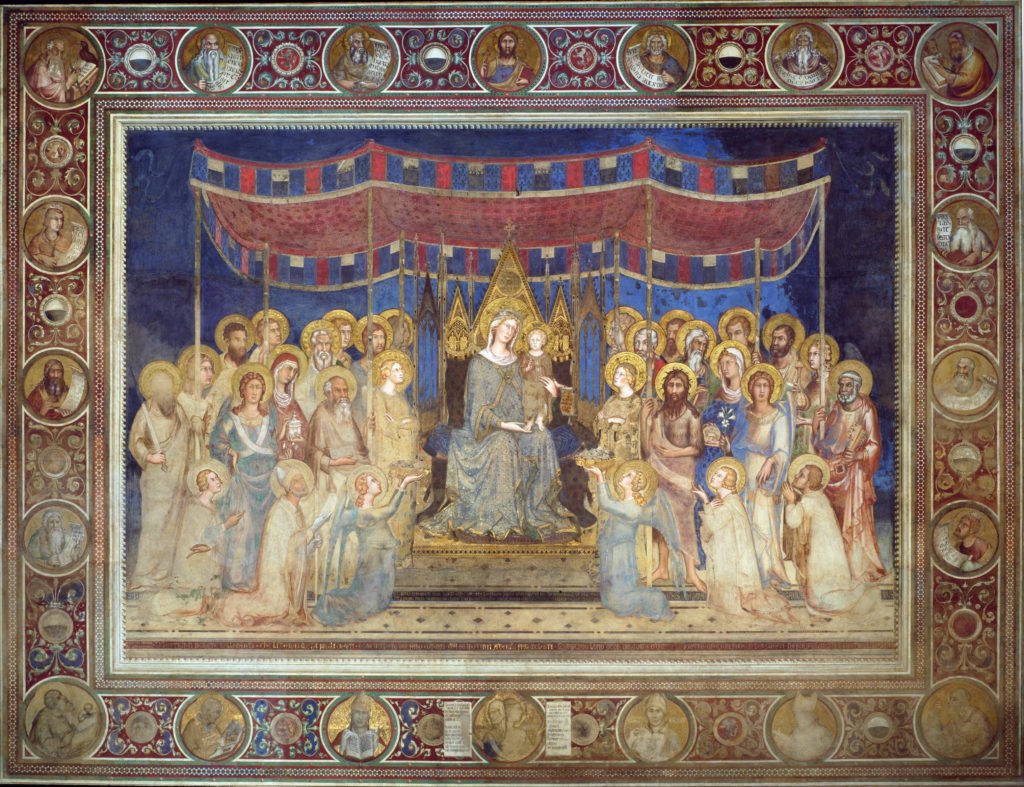 On June 9, 1311, while all government offices and stores were closed for the occasion, an altarpiece known as the Maestàwas carried in solemn procession from the workshop of its artist, Duccio di Buoninsegna, to the high altar of the recently completed cathedral of Siena (for the construction of Siena cathedral, see https://rockyruggiero.com/blog/mine-is-bigger-than-yours-an-acute-case-of-cathedral-envy-in-medieval-siena/).(see below)
This must have been no easy task as the Maestà was once the largest Italian wooden altarpiece ever painted with approximate original dimensions of 4.68m x 4.99m (15'4" x 16'4"). (see below) The painting was unprecedented in both scale and organization with an image of the BVM ("Blessed Virgin Mary" for you neophytes) and surrounding saints and angels on the front side of the painting, and 26 scenes depicting the Passion of Jesus Christ on the backside of the painting. These were in turn surrounded by a great number of smaller pinnacle and predella paintings.
When you visit the painting today in the Museo del Opera del Duomo in Siena, it feels very much like you are in a funeral home attending a wake.
The room is dimly lit, with that rarest of features in Italian museums – chairs! – aligned in rows in front of the painting. The somber setting could not be any more appropriate as what is left of the painting today is only its disassembled parts!!! In 1771 the altarpiece was dismembered by stripping the individual paintings from their complex frame and separating the front of the painting from the back. Many of the smaller panels were either lost or dispersed in art collections throughout the world (see NGA, Washington, DC; Kimbell Museum, Fort Worth TX; Frick Collection, NYC), while the rough sawing left an indelible scar on the right cheek of the BVM as a blade tooth pierced the wooden surface. (see below)
Maestà is the Italian word for "majesty", and in art history, it refers to an image of the BVM "in majesty". More than just your run-of-the-mill "Madonna and Child" image, it is instead a more complex, populated, and queen-at-court-like image. Of course, Mary's court is a heavenly one, so in Duccio's painting, the BVM is surrounded by a total of 30 figures, 20 of whom are angels and 10 of whom are saints. The angels seem to fulfill the role of royal guard as they stand attentively and protectively with spears in hand.
The saints instead represent those courtiers typical of European medieval courts and include some of your standard medieval-celebrity saints.
The hippy-looking saint to the right of the BVM is of course SJB (Rookies: St. John the Baptist) who looks very much as if he just stumbled out of Woodstock.
In the corresponding place to the left of the BVM, we have SJE (St. John the Evangelist). Back to the right, next to SJB, we have St. Peter who is inexplicably missing his iconic keys. While in the corresponding place to the left of Mary we have Peter's unfailing partner in crime St. Paul, who holds his instrument of martyrdom – the sword used to sever his head!
Kneeling below these standing saints, we have Siena's 4 patron saints – Ansanus, Savinus, Crescentius and Victor (left to right). Their intercessory role is paramount to understanding the painting. During a royal audience, it would be unheard of for a mere commoner to address a queen. So, a commoner would bring his petitions to the courtiers who would in turn communicate the needs of the people to the queen. So too held true in Mary's heavenly court where the masses (in this case the faithful congregation in Siena cathedral) would pray to their patron saints in hope that their prayers be brought by them before the Queen of Heaven. Courtly protocol dictates – you talk to them, they talk to her, she talks to them, they talk to you.
But one day in early 14th-century Siena, the Virgin Mary decided to do away with all this courtly pleasantry and to get directly involved in politics!!!
With the advent of medieval Italian communes, there was a new civic market for art whose subject matter may have, at least for a time, remained Christian, but whose purpose was decidedly secular. In 1315, Simone Martini, another of Siena's all-star-14th-century painters, was commissioned to paint a Maestà on the eastern wall of the "Sala del Gran Consiglio" (Hall of the Great Council) of the Palazzo Pubblico, or town hall, of the recently-established-medieval Republic of Siena (see above and below). At first glance, Martini's Maestà might seem to resemble Duccio's earlier version quite a bit. The BVM and Child are surrounded by 30 angelic and saintly figures. In fact, many of the same complimentary saint pairs appear as well. SJB – looking as dazed and confused as ever – symmetrically colocated with SJE. Key-holding Peter matched up with sword-wielding Paul, etc.
But then you realize that the angels in this painting are greatly outnumbered by saints – only 8 angels vs. 22 saints. Such a dramatic inversion of proportion (20 angels vs. 10 saints in Duccio's Maestà) was a conscience attempt to make the mural worldlier. Saints are technically historical figures who once walked the earth in real-corporeal form, thereby are more appropriate for an earthly setting. While angels are part of that divine world which we mortals can only aspire to reach in the afterlife.
So, leave angels for churches and saints for city hall!
Not surprisingly, all four of Siena's patron saints appear kneeling in the foreground of Martini's painting as well. Each originally had a scroll made of actual parchment fixed to the wall so as to seem to be extending from their hands. Now lost (although their silhouettes are still visible), these scrolls would serve to reinforce the courtly protocol demonstrated in Duccio's earlier Maestà – people in room pray to saints, saints to BVM, etc.
Yet, in Martini's Maestà, the BVM herself breaks protocol by responding directly to the people in room!!! Her response appears in the form of a poem written in golden letters along the plinth of her throne that reads:
The angelic flowers that adorn the heavenly meadow/Roses and lilies/Delight me not more/Than does good council.
Now what the hell does that mean?!?!
It means that the BVM is not interested in the traditional offerings of flowers, gold or other precious materials. What she wants from the people who worked in this room is GOOD COUNSEL!!! That is, to perform their civic duties, and to administer and govern well. There is also a pun at play here – she wants "good counsel" (buon consiglio) from the "Great Council" (Gran Consiglio), which was the name of the 500-member parliamentary body that convened in this very room. Even Baby Jesus gets into it as he struggles to his feet in order to display a scroll (also of parchment) that reads "Judge wisely you who rule the earth!"
That those members of Siena's legislative body that made laws and ratified war were also morally accountable to both God, and, perhaps more importantly in a city that saw itself as the groom of Mary, to the Queen of Heaven herself!
Zia Maria Wants You!