Montefioralle: The Tiny Tuscan Town That Will Capture Your Heart
Considered one of the most beautiful villages in Italy, Montefioralle (just east of Greve in Chianti) offers the best of Tuscan wines, medieval charm, and rural beauty.
Surrounded by lush vineyards, cypress trees and olive groves, Montefioralle sits at the heart of Tuscany's Chianti region, between the provinces of Florence and Siena. Romanticized Chianti is most well-known for its production of world-class red wines, including the famed Chianti Classico (sold under the iconic Gallo Nero or Black Rooster label). In fact, Chianti was the world's first demarcated viticulture region. In 1718, Cosimo III de' Medici issued an edict delimiting the Chianti area for wine production, though the region's history of viticulture dates as far back as the eighth century BC. If you are considering wine tasting in Italy, look no further than Montefioralle in Chianti!
Montefioralle is also a great place to sample other regional specialties. The town and surrounding area boast several restaurants and trattorias serving local fare, including Tuscany's iconic bistecca fiorentina (Florentine steak), fresh pasta, cured pork, and cantuccini (traditional Tuscan almond cookies). If you visit Montefioralle in March, you will be treated to delicious frittelle (sweet fried rice cakes) prepared for Montefioralle's Festa di Fritelle, held in honor of St. Joseph's Feast Day (Italian Father's Day). The frittelle are prepared by the locals themselves, served hot and fresh in the town's piazza and washed down with a glass of Chianti Classico or Vin Santo (Italian dessert wine).
In addition to exquisite cuisine, Montefioralle also bears the markings of a rich history. One of the most well-preserved villages in Chianti, Montefioralle's fortified medieval walls and towers are still intact, once part of the original Castle of Montefioralle. In Renaissance times, the castle was home to a number or prestigious residents, including the Florentine families of Ricasoli, Benci, Gherardini, and Buondelmont. Allegedly, Montefioralle was also home to famous Italian voyager and navigator Amerigo Vespucci (1455-1512). You can visit the former Vespucci residence in Montefioralle, denoted by the Vespucci family symbol on the door (the "vespa" or "wasp"). The Church of Santo Stefano, rebuilt in the 17th and 18th centuries, is also worth a visit. Inside you will find a small collection of artworks, including Orazio Fidani's Saint Michael Archangel, Jacopo, Stefano and Domenico (1647) and the spectacular 13th-century Virgin Mary by the Master of Greve.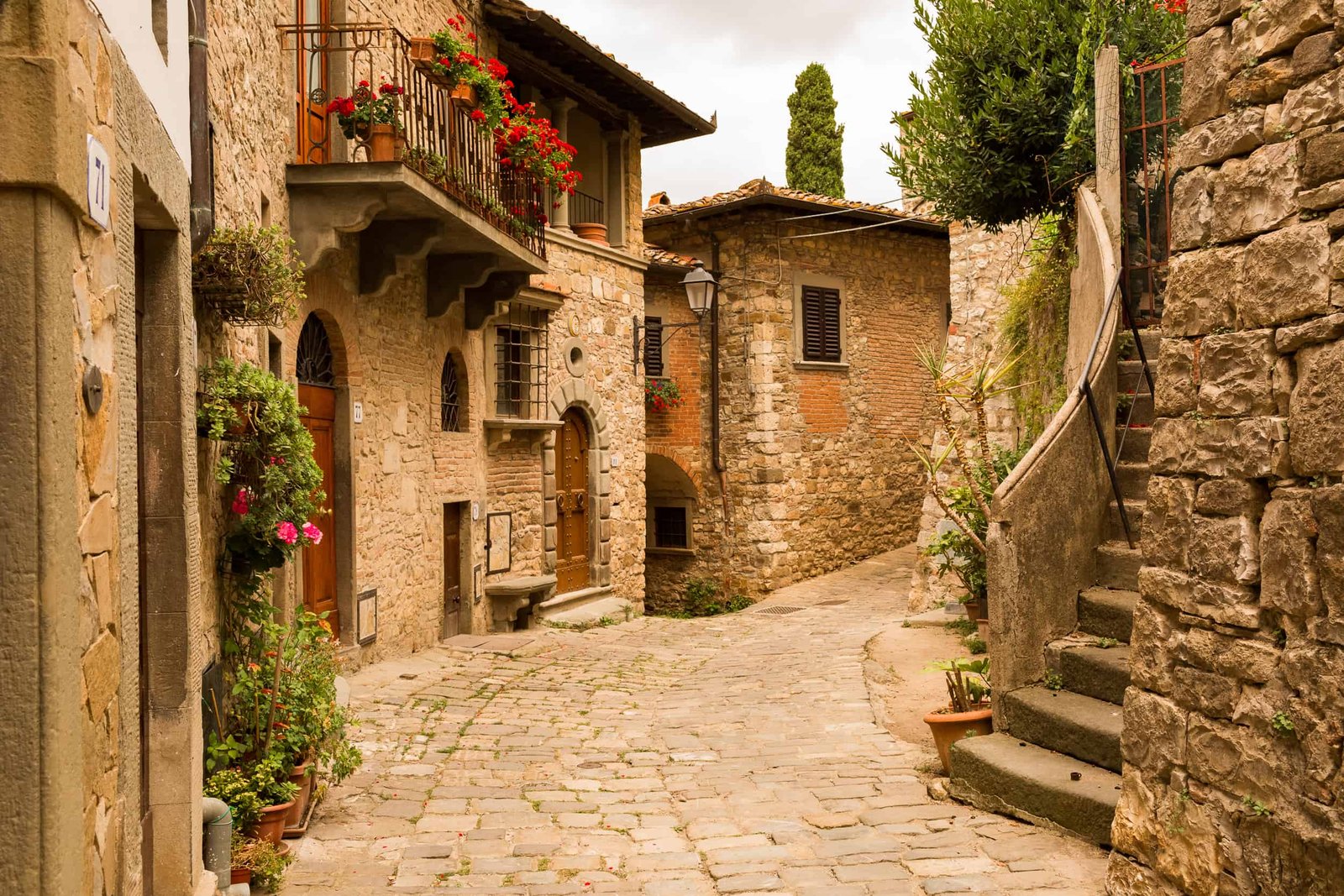 The village of Montefioralle is very small (numbering less than 100 inhabitants) so it makes for a perfect day trip from Florence or Siena. You can wander down Montefioralle's cobblestone streets, visit local wineries, and enjoy a spectacular lunch with picturesque views of Chianti in less than a day and still have time to explore the surrounding area. Take a scenic drive from San Casciano Val di Pesa to Greve in Chianti, enjoy the verdant beauty of Tuscany on foot hiking along Via del Castello, or investigate the beautiful Romanesque pievi (rural churches) dotting the countryside.