La Befana – Italy's Christmas Witch
According to Italian legend, on Epiphany Eve (the night of January 5th), a little witch known as La Befana delivers presents and goodies to all the good children throughout Italy. She swoops down chimneys on her broomstick, and if the children have been well-behaved, she leaves presents – if they have been naughty, La Befana leaves a lump of coal or a piece of dark candy. (Perhaps she and Kris Kringle are in cahoots?) Eagerly awaited by Italian children across that nation, she is celebrated on January 6th, the Feast of the Epiphany, which marks the end of the festive season in Italy.
La Befana has been part of Italian folklore since the eighth century. Her name is thought to derive from the Feast of the Epiphany (Festa dell'Epifania). Some argue that her origins can be traced back to the Roman goddess Strenia or Strenua (goddess of the New Year, purification, and well-being). Popular legend maintains that La Befana was invited by the Three Wise Men (or the Magi) to accompany them on their quest to find Baby Jesus. Claiming to be busy with housework, she initially declined their invitation. Soon after the Wise Men had left for Bethlehem, however, she had a change of heart. She filled a basket with gifts and set off in search of the Baby Jesus but was unable to find him before the Wise Men did on January 6th, the Epiphany. Today, it is said that La Befana is still in search of Baby Jesus. She visits the homes of all the children in Italy on Epiphany Eve in the hopes of finding the child, leaving toys, chocolates, candy (caramelle) and fruits (for all the good children) in her wake. For the bad children, she leaves coal, onions, garlic, or dark candy.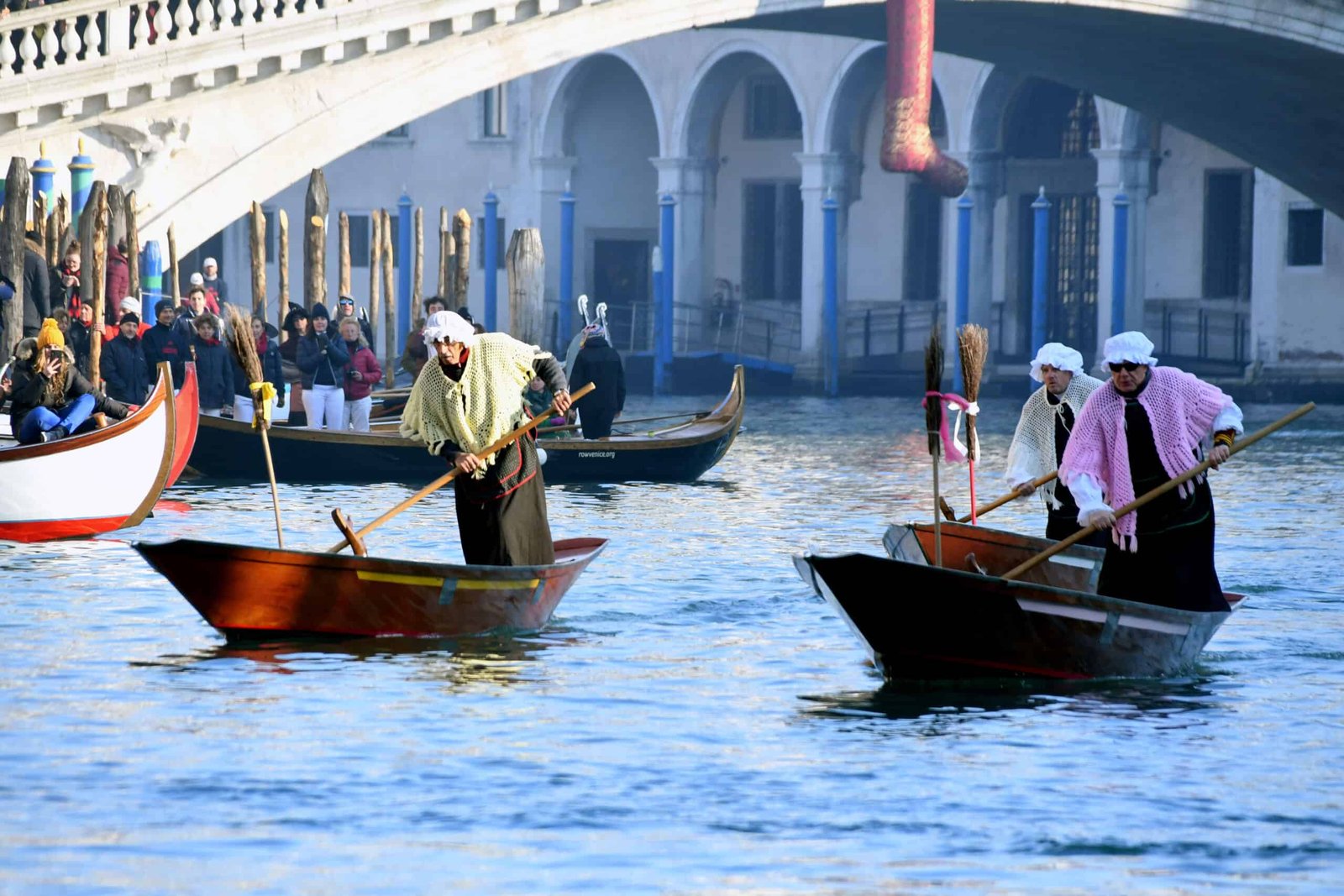 While Italian children also believe in Santa Claus (Babbo Natale) La Befana is by far the more popular Christmas character. A national icon, she is celebrated throughout all the regions of Italy. Lively festivals are held in her honor across the country on the Feast of the Epiphany, though Befana celebrations in the regions of Lazio, Le Marche, and Umbria are particularly noteworthy. Urbania in Le Marche is regarded as the hometown of Le Befana. Every year, the town hosts a 4-day long festival for La Befana, with over 50,000 Italians and tourists in attendance. Vatican City celebrates with a procession of locals dressed in medieval costume, and Venice hosts the Befane races (Regata delle Befane), featuring men dressed up as La Befana racing in boats down the Grand Canal.
On the morning of the Epiphany, Italian children wake to stockings filled with presents and candy (or carbone, coal) courtesy of La Befana. Since La Befana is a good housekeeper, it is said that she sweeps the floor before she leaves, symbolically sweeping away the problems of previous year. Often, Italian families will also leave out a small glass of wine and a few nibbles of food to welcome La Befana.
Buona Befana!