Fiesole: A Florentine Hilltop Treasure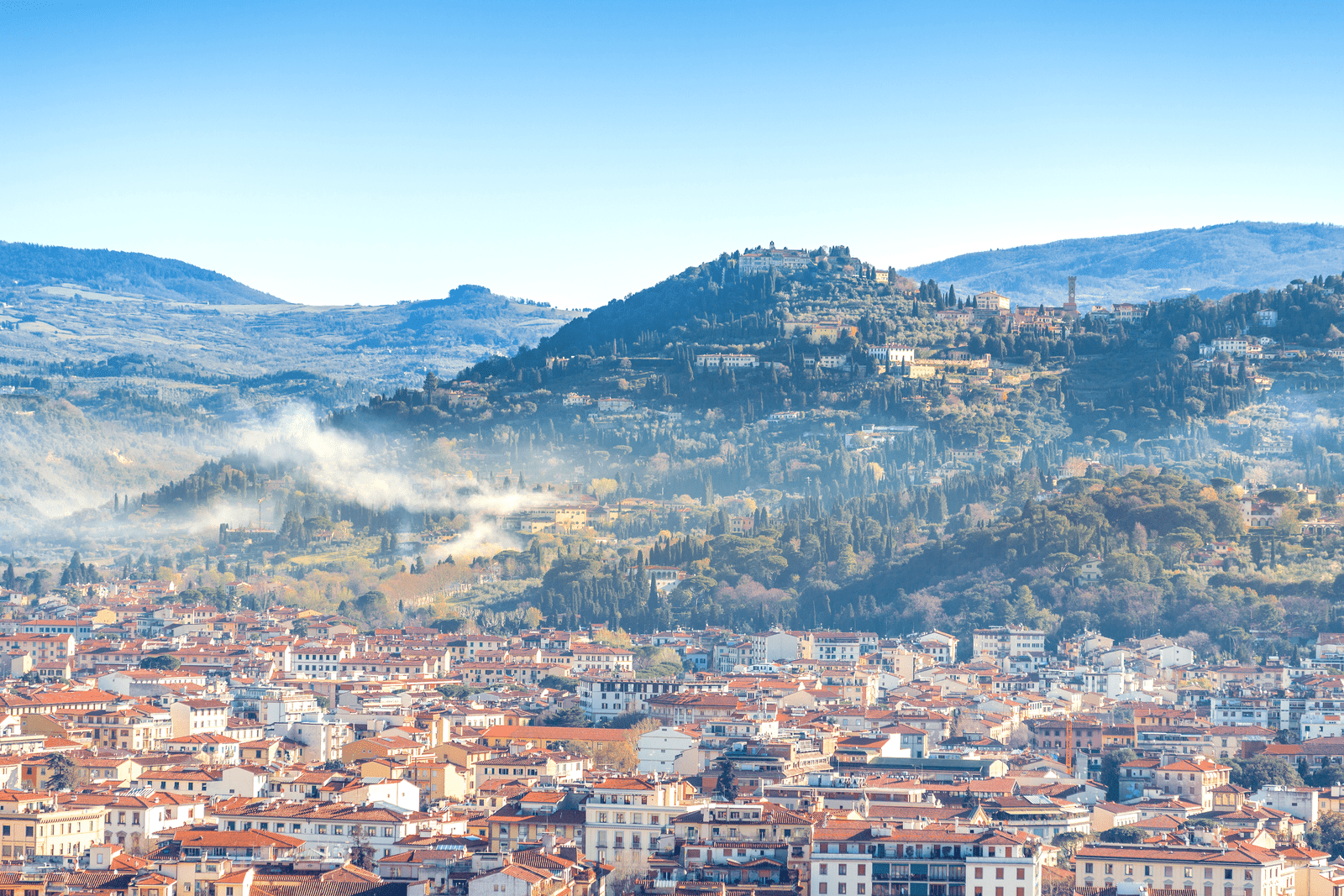 The hilltop town of Fiesole – rising 295 meters above the city of Florence – has ensnared the imaginations of writers and poets since Renaissance times. Filled with relatively undiscovered treasures, including Etruscan ruins, an ancient Roman amphitheater, beautiful churches, Renaissance-style villas and unparalleled views of Florence, elegant Fiesole is a timeless gem.
Fiesole has served as a retreat from the hustle and bustle of city life since the 14th century. Considerably cooler in the summer, wealthy Florentines would venture into the green hills of Fiesole to escape from the heat, leaving lavish Renaissance villas in their wake. To this day Fiesole remains a popular weekend getaway for locals, only a 20-minute drive from Florence, and for tourists, there is much to see!
Fiesole's Area Archeologia (Archaeological Area) encompasses an Etruscan temple, Roman baths, and a spectacular 1st-century BC Roman amphitheater (still in use for the Estate Fiesolana, a summer festival of live music, theater, and film held between June and August). Fiesole's Archeological Museum boasts a fantastic collection of Bronze Age and Roman artifacts, and the Museo Bandini is also worth a visit, filled with early Renaissance works including Taddeo Gaddi's beautiful Annunciation. (In fact, you can purchase a combo ticket covering the Archaeological Area, Archaeological Museum, and Museo Bandini for €12/8).
Fiesole's 11th-century Cattedrale di San Romolo (Cathedral of Saint Romulus of Fiesole) in the town's main square is another trove of art. The cathedral features a beautiful Romanesque interior with frescoes by Pietro Perugino and Nicodemo Ferrucci, terracotta statues by Giovanni della Robbia, a Gothic triptych, and two gorgeous Renaissance chapels. The sepulchral chapel of Bishop Leonardo Salutati is especially magnificent, featuring a marble sarcophagus sculpted by Tuscan artist Mino da Fiesole.
From Fiesole's central square, you can make your way along the Via Giovanni Dupré to visit the Museo Primo Conti, a museum-house featuring the works of 20th-century Italian Futurist artist Primo Conti. There are over 60 of Primo Conti's works inside, as well as an extensive library, archive, and studio.
If you are in the mood for a longer trek, you can hike to the 15th-century church and monastery of San Francesco. The church's multilevel terrace is the most spectacular vantage point in Fiesole, offering a breathtaking panorama of Florence and the surrounding plain, complete with lush rolling hills, white farmhouses, olive groves and cypress trees. The interior of San Francesco does not disappoint either: inside you will find stunning Gothic paintings and an eclectic museum full of delightful curiosities.
Whether you come for the archeological treasures, the spectacular works of art, the staggeringly beautiful views or simply for a tranquil break from the hubbub of Florence sightseeing, Fiesole is sure to leave you charmed. With cool breezes, verdant landscapes, and golden Tuscan sunsets, there is no better place to take refuge than beautiful Fiesole.