Giotto and the Return to Naturalism
In my last blog (HOW A LITTLE MAN CHANGED THE WORLD: ST. FRANCIS OF ASSISI), I discussed how St. Francis of Assisi was responsible for changing world perception in medieval Europe and paving the way for an eventual revolution in the arts. Therefore, if it was not social or religious tradition that was hindering visual artists from representing the world more faithfully and accurately, what was it?
It was a technical limitation. To put it simply, that after 700 years of alien madonnas and man-children in art, artists had forgotten how to make things look real!
The analogy that I use to illustrate this point with my students is the recent move to eliminate cursive handwriting from elementary school curricula. The results of which I experience first-hand as my six-year-old son can neither write nor read in cursive. Clearly, if we stop doing something, it does not take very long before we forget how, in fact, to do it.
It was clearly a matter of supply and demand, and in the Byzantine world, there was little demand for naturalism.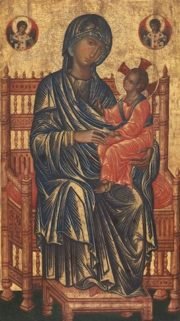 The philosophy of Byzantine art was that if the BVM, as I like to call her (see Blessed Virgin Mary), appeared as a regular woman, her importance might not be properly impressed upon viewers. But if the BVM resembled E.T. (see "call home"), then it would be easier for the faithful to accept her as a goddess. A formula that has been employed since the dawn of visual imagery – that the less natural something looks, the more supernaturally it is perceived.
Baby Jesus was actually the more difficult of the two to resolve, as Catholics maintain that Jesus is God. The thought that Jesus/God was born the way we all were – see "the diaper thing", see "the spitting up on oneself thing", see (my personal favorite) "the potty-training thing" – was thought to be completely inappropriate.
And so Byzantine artists adhered to the homuncular theological belief that maintains that Jesus was born a perfect-little adult; essentially implying that from the moment of birth, Jesus Christ could drive a car, he could watch R-rated movies and that he could consume alcohol…
Such a theory might seem foolish to us in the 21st century, but it was a very effective way to render Christian subject matter more divine in the Middle Ages.
That is, of course, until artists like Giotto appeared. In his Ognissanti Madonna, painted in 1310 and located in the Uffizi Gallery in Florence, Giotto began to effectively reintroduce naturalism, by simply using nature as both his model and inspiration.
In his painting of Mary, Giotto clearly shapes Mary's legs under her dark drapery, suggesting that there is a human form under the drapery. Usually, Mary appeared like a paper cut-out doll, where body and drapery were one and the same.
More importantly, Mary's breasts are modeled as well and push up against her tunic, so that more than just a human form, it is a female form that Giotto is depicting.
For the first time in seven centuries, Mary's femininity has been restored!
Notice also the physical contact between "mommy" and "junior". In most Madonna and Child images of the time, Mary simply points at Jesus as she does in Cimabue's (see Giotto's teacher) version of the subject, like some sort of blinking neon arrow rhythmically reminding us to "Pay attention to him, pay attention to him…" (see "Eat at Joe's…)
Instead, in Giotto's painting, Mary holds Jesus' right leg with her right hand, and wraps her left around his waist. If you look carefully, you can see the tips of fingers under Jesus' left arm. In one painting, Mary comes across as a human, as a woman, and as a mamma! It was very simply a revolution in the history of art.
Of course, the baby is by no means to most babyish-looking baby you have ever seen (see goatee!). But there are some important infantile characteristics in the child, such as the overall proportions, the general pudginess, and, perhaps most importantly, the rolls of baby fat at the neck and wrists of the child. Having simply figured out how to render the illusion of baby fat at the beginning of the 14th century is in and of itself a revolution!
Clearly Giotto's is not anatomical painting, but it was the foundation upon which the next five centuries of Western painting would be based.
Stay tuned for my next blog where we shall discuss how Giotto so effectively applied naturalism to his narrative paintings, and how he earned my nickname "The Alfred Hitchcock of the 14th century"!