Michelangelo's Three Pietàs
by Elena Miceli
Normally when discussing an artist's "development," one is referring to the development of style and technique, not that of religion. A religious journey is something that is deeply personal and therefore would never be as public as a famous masterpiece. However, Michelangelo Buonarroti's spiritual journey can be documented through his art. The three Pietà sculptures that Michelangelo created in his lifetime deepen this unique documentation, as they show the direct changes on the same subject matter.
Most people are familiar with the original Pietà, often called the Vatican Pietà, sculpted from 1498-1499 as a commission for French Cardinal Jean de Bilhères, when Michelangelo was a mere 23 years old. In this rendition of the Virgin Mary and Jesus after his crucifixion, Mary lovingly cradles her son, enveloping him in the billowing folds of her drapery. In classic Renaissance style, the gore of the crucifixion is minimal, showing only a small, delicate wound on his ribcage. Mary's face is devoid of intense emotion, appearing almost serene. On the Virgin's sash across her chest, Michelangelo inscribed "The Florentine Michelangelo Buonarroti who made it" to dissuade attributions to others. Later, he regretted this act of vanity and never signed another sculpture.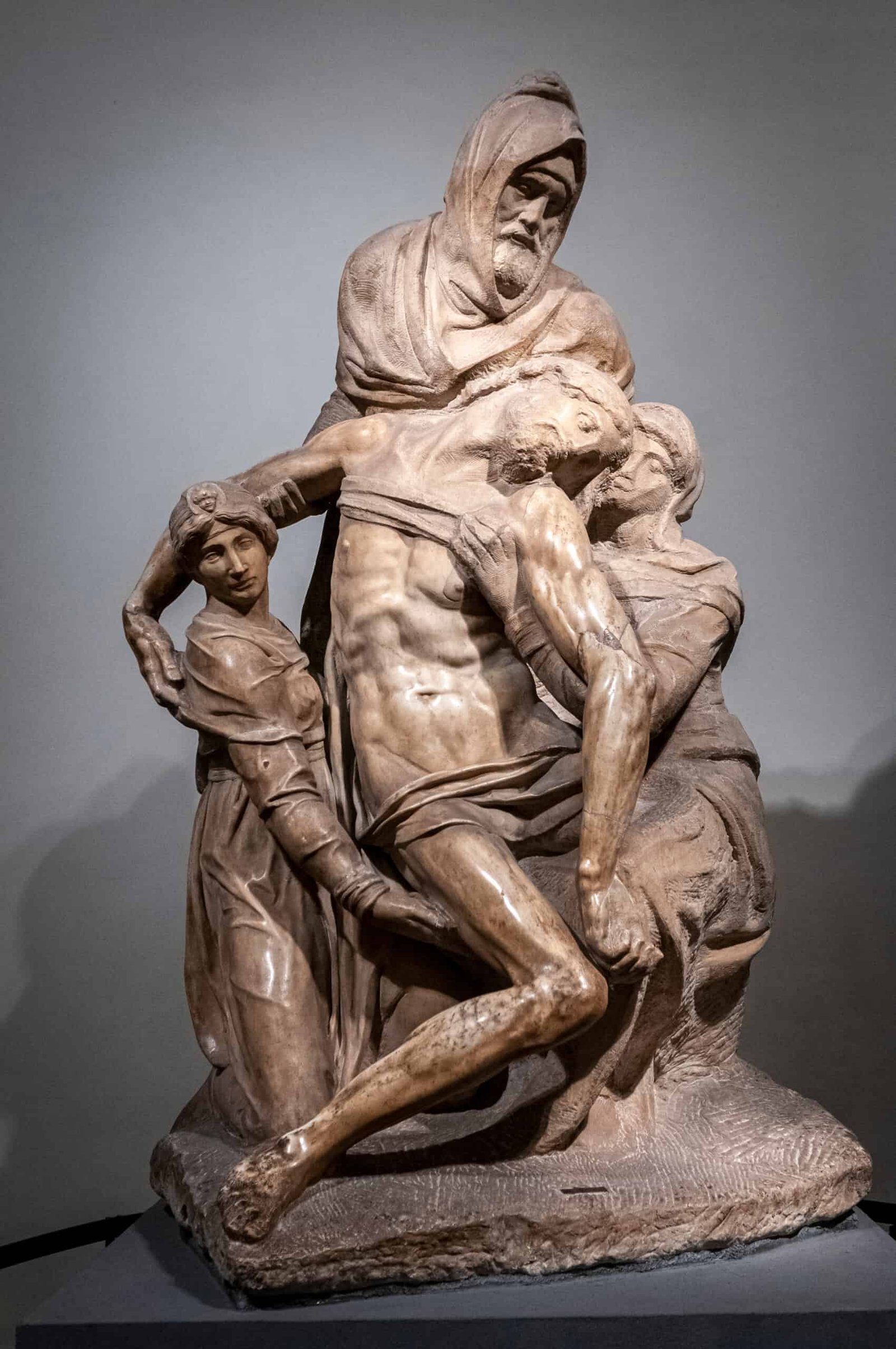 Michelangelo sculpted the second Pietà, called the Bandini Pietà, at age 72, for his own tomb. This composition varies from its predecessor, as Jesus is slumped instead of cradled, held up by three figures. When one pictures the harrowing scene of a mother holding her dead child, this is closer to what one envisions, rather than in the Vatican Pietà. The Virgin and Mary Magdalene flank his sides, gripping his legs and underarm. The Pharisee Nicodemus looms above, watching over Jesus in a soft and reverent expression. Michelangelo carved his own face onto that of Nicodemus, taking the liberty of inserting himself into the biblical narrative. This is a far less romanticized version of the scene, as the peace of the first rendition is replaced with struggle as the women labor under Jesus' weight, and one can almost feel the pain of the awkward angle of Jesus' body.
The third and final Pietà is the Rondanini rendition, sculpted up until the very last days of Michelangelo's life. It depicts the Virgin alone holding up her son, him leaning heavily into her front. There is no embellishment or defining features; it even looks as if it could be any mother and son. Distinct from the other two, this sculpture has a rougher quality to it. This diverges from the usual refined and polished styles found in works like the David and the Vatican Pietà. If it were not found among his possessions at the time of his death, it may not have been as easily attributed to Michelangelo as past works. According to a friend, he had been working on the Rondanini Pietà the entire day a week before his passing.
The story of these sculptures beyond that of the biblical is of Michelangelo's life. Throughout one's life, ideas and opinions on a subject naturally alter and develop. To any deeply religious person, the event of Christ's crucifixion elicits much rumination. Young Michelangelo's own thoughts shine through in his first Pietà. He glorifies Christ's sacrifice on the Cross, giving Christ the idealized body, virtually free of any damage from his terrestrial life, as he is beyond it now. Some fifty years later, the rose-colored glasses have broken. The Rondanini Pietà shows that he is no longer a sprightly 23-year-old, with death not even a passing thought. In a world where 40-45 was the average lifespan, he has begun to outlive most of his friends and family, including his dear friend Vittoria Colonna, who died the same year he began the Rondanini. He had always been a devout Catholic, but this piety was heightened by his shocking longevity. As a result of the seemingly constant death surrounding him, Michelangelo's fascination with mortality grew, along with concern for his salvation. This is shown through Michelangelo's insertion of himself into a scene with the sole themes of death and the pain that sacrifice brings. In his final days, the artist chose not rest and relaxation, but to toil endlessly in the name of God to prove his devotion, fearing for his soul in the next life.
Today, the grandiose nature of Michelangelo's original Pietà overshadows the subsequent ones, however, his Bandini and Rondanini versions show deeper perspective into both what the crucifixion was, and how it affected Michelangelo himself. To experience this journey oneself, the original Bandini Pietà along with the casts of the Rondanini and the Vatican are on display now at Museo dell'Opera del Duomo in Florence from February 24 to August 1, 2022.