Itinerary
A Unique and Exclusive Program…
DAY 1: THURSDAY APRIL 13, 2023
Check into the luxurious Claridge's Hotel (elegant Mayfair district of London)
7:30pm – Welcome Dinner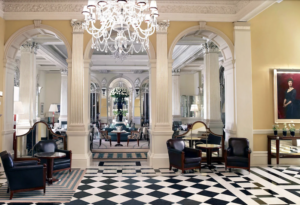 DAY 2: FRIDAY APRIL 14, 2023
10:00am – In-hotel lecture by Dr. Rocky "Donatello: Inventing Renaissance Sculpture"
To prepare for our extraordinary visit to the exhibition on Donatello at the Victoria and Albert Museum in London (February 11 – June 20, 2023), Dr. Rocky will examine the singular artistic genius of the 15th-century sculptor. Through an in-depth analysis of selected works from throughout Donatello's prolific career, we will come to appreciate the artistic vision and range of expression of an artist that is without equal in history. 
3:30pm – Visit to the Donatello exhibit at the Victoria and Albert Museum
The exhibition includes major sculptures by Donatello from collections throughout the world. Including works such as the marble "David," and the bronze Attys-Amorino from the Bargello in Florence, the "Madonna of the Clouds" from the MFA in Boston, as well as in-house works belonging to the V&A such as the "Ascension," the stellar exhibition presents a thematic and chronological look into the legacy of the great artist.
DAY 3: SATURDAY APRIL 15, 2023
10:00am – Visit to the National Gallery: Italian Renaissance Art
During our visit to the National Gallery, we will examine the remarkable collection of Italian Renaissance art, including the "Virgin of the Rocks" and "Burlington Cartoon" by Leonardo da Vinci, the "Madonna and Child" by Masaccio, the Baptism of Christ" by Piero della Francesca, the "Madonna of the Pinks" by Raphael and the "Bacchus and Ariadne" by Titian. The collection of Italian art at the National Gallery is one of the most impressive outside of Italy and contains some of the most iconic works of the Renaissance.
3:00pm – Walking Tour of "Roman London" with Dr. Meghan Callahan
Londinium (or Roman London) was founded about 47-50 AD. Though almost all of Roman London has been built over or burnt remains of the Roman past can be seen above and below ground. We'll start our walk at Tower Hill, to observe the once substantial wall that encircled the city. We'll then cross the location of the now subterranean Walbrook River and make our way to the ruins of the Roman Coliseum. We'll end our tour at the Mithraeum, where a multi-sensory experience allows us to imagine ourselves members of the mystery religion of Mithras.
7:30pm – Farewell Dinner
DAY 4: SUNDAY APRIL 16, 2023
11:00am – Check out of hotel / Arrivederci Amici!